Vogt & Maguire's experienced, professional and enthusiastic team handles the chartering of all types of vessels in the liner and tramp trades, including container vessels, multi-purpose vessels, bulkcarriers and loggers.
We work closely with owners and charterers on a worldwide basis and provide a depth of experience and knowledge to our clients.
As members of The Baltic Exchange we follow strict rules of ethics and give a complete service which includes market appraisal, accurate and skilful negotiating techniques and reliable attention to post fixture matters.
Contracts, joint ventures and projects are regularly undertaken and having a close co-operation with our Sale & Purchase team we can offer a complete range of combination deals.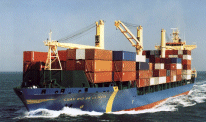 Courtesy of FotoFlite